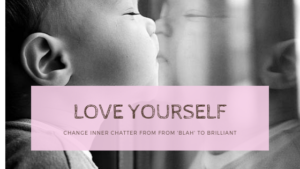 "The mouth speaks what the heart is full of." Anonymous"
How many times a day, would you say that do you think of the things which bring you happiness?
How many times in your day do you honestly pat yourself on your back and say "well done – you rock!!"
I want let you know, you have a little voice inside your head (not the kind which would land you in a mental asylum ), but yes we all have an internal voice, or inner dialogue.
Everyone has one.
This internal dialogue ( the little voice) is a part of you, it's actually part of your brain, but it can chatter away at you like an excited child 24 hours a day. So very often it can chitter-chatter on and on spreading negative words, thoughts and messages both inside your head, and outside in your words, and can run away with you like a wild horse if not 'reigned in' and redirected to a more desireable direction.
So how can you change negative messages into positivity?
Sounds like an easy concept, but one important thing to remember here, is that every new skill is mastered with practise — and BABY STEPS.
YES it's new things need to be a step – by – step journey. Dorothy didn't make it to the Emerald City in one leap, and you will need to walk your own yellow brick road towards changing your inner voice from a hurtful one into a loving one.
The key here is to start.
Make a decision or perhaps a promise to yourself to start. And get up everyday telling yourself that this day is a start of another day.
If you knew your life could be even better, do you think you would you invest 2 minutes a day to change your inner dialogue from 'blah' to 'brilliant' ?
If so, I have a loving challenge for you.— I challenge you to tomorrow – AND the next day — AND the next day — for 20 days.
Now, I know this might feel a little daunting, but you can do this. I know you can.
MY LOVING CHALLENGE TO YOU: Every day for 20 days look at yourself in the mirror and say to yourself five times, each time pausing and letting the words sink in.
✨✨✨ "Well done, I love you. – you're doing your best, and you're best is good enough" ✨✨✨
Feel into the words, let yourself sit in it for a few moments, hearing and receiving the words as if you're hearing them delivered from someone else.
You can change your life in amazing ways – One babystep at a time.
Leave a comment below and let me know how you get on. Share this with your friends if you think they could love themselves a little more too. Imagine a world where everyone were fully loved up – now you know one way how.